Rare Diseases Societies joined greeting session at Rare Diseases Foundation of Iran for the Iranian new year and met with the chairman and the managing director of RADOIR
RADOIR NEWS- Managing directors and representatives of Icthyosis, Alopecia, Myasthenia Gravis NF, Rett Syndrome, EB, PKU, NBIA, MPS, Mulibrey Nanism, Cystinosis and Leprosy , Immuno-defeciencies advocate societies had a cordial meeting session with Dr. Yaser Davoudian, chairman and Dr. Hamid Reza Edraki, managing director of Rare Diseases Foundation of Iran .
Yaser Davoudian emphasized on unity and integration and revised the plans and policies to be effectively executed within the upcoming new year like developing the national strategic vision and plan for rare diseases, signed collaboration MOU's with Medical Universities of Tehran and Iran as well as ROYAN Institute and also establishing RD patients pharmacy.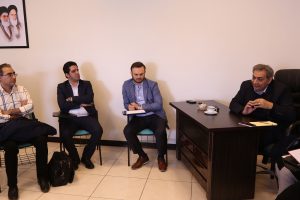 Dr. Edraki, RADOIR managing director added, " All the scientific, social, psychological, control, prevention and treatment concerns and means of supports by the related governmental authorities are included in the national strategic plan and vision."
Due to screening, diagnosis processing costs and even each rare patient's living expenses, we have to call for whole organizations to share their ideas and considerations to reduce the living costs."
It was also discussed that RD societies have to do their official registration and suggested to hold cultural, social, promotional and public events with the collaboration of RADOIR and RD societies of Iran.