On the occasion of Rare Disease Day 2019, a scientific seminar was held with the presence of the academic professionals & students at 10th RDOIR's Rare Diseases Congress.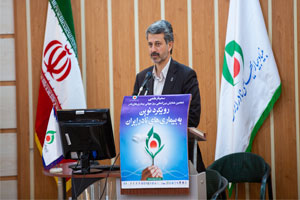 RADOIR NEWS- At the first section of this seminar, Dr.J.Kouhpayeh Zadeh, IUMS Chairman appreciated all RADOIR's effective activities during the recent years and noted, "We should collaborate with such NGO's in various fields such as training, research, services, social & sanitary. IUMS can play an essential role in prevention and diagnosis of such diseases. Also, signing more scientific MOU's and expanding collaborations are included in our future goals & objectives."
Dr. Hamid Reza Edraki, RADOIR Managing Director, appreciated the deceased Dr.Ali Davoudian as RADOIR founder and mentioned, "During the recent years, RADOIR has done great for rare patients such as launching SABNA patients registry system which has facilitated furthered access to the patients' records. Also, we have updated the colored rare diseases Atlas starting from 50 types of diseases to 282."
He continued, "Rare diseases are diseases which affect 1 to 5 in 10,000 people. Unfortunately, late diagnosis is one of the most important problems which has been overcomed by RADOIR. In addition, RADOIR is expanding its activities on prevention through imaging, clinical trials, screening and etc."
In the meantime, Mr.A.Shamshiri, Epidemiologic Professor at TUMS admired RADOIR's useful actions and noted, "We have still limitations in diagnosis, prevention and treatment of rare diseases. Nowadays, 350 to 400 million people are living with rare diseases all around the world which more than 80% are genetically and congenital and unfortunately only 5% of rare diseases are curable."
He continued, "Rare diseases diagnosis take around 8 years and 30% of rare patients are children which only 1/3 of them have a normal life. Furthermore, rare patients' registry takes about 5 years in Iran reported through SABNA at RADOIR."
During the seminar, rare diseases Blue Atlas and the book titled "pioneer" book were unveiled. This book is the story about a rare patient living with SMA disease.
Dr.M.Houshmand, Prof.D.Farhoud, Dr.S.Abdi, Dr.SH.Saleh Pour had oral presentations in seminar speaking about genetics, rare patients' social and medical behavior, rare neurological abnormalities and congenital disorders, respectively.