Author: Dr. Hamid Reza EDRAKI
Managing Director at Rare Diseases Foundation of Iran (RADOIR)
The state of medical imaging in detecting COVID-19 patients is of high value. The CT scan without contrast media injection as the proposed method in diagnosis during treatment. In some cases, HRCT of lung references is recommended for higher penetration and finer levels, but epidemic and pandemic as well as the high range of X-ray exposition, applying the same method is to be investigated.
The most common sign and symptom of COVID-19 will be ground glass opacity (GGO) of lowers lobes of lungs and specially posterior and lateral segments in lungs in neighboring of chest thoracic wall or pleural cavity which is usually observed 5 days after disease appearance. Since the volumetric mass of the virus is very high and penetrates in lower areas and ends up to infectious and inflammatory changes.
Apart from this important symptom, there are other signs as haziness, consolidation, fibrotic band, crazy paving, speculation of the lesion.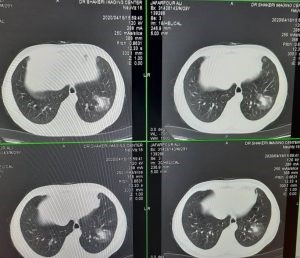 In COVID-19 patients, the pleural effusion or lymphadenopathy are rare, active haziness of developed lobar will turn into bronchopneumonia and interstitial pneumonia which are finally called as white lung.
The simple lung CT scan and not HRCT, the amount of radiation and shorter time left to HRCT. In some centers, 3D methods are also used which are of more value rather than 2D's. During CT scan, the patient takes a deep breath (deep inhale) and keeps till the end of test and delicate axial cuts later on. The simple radiography of lungs (even digital) is of no value in diagnostic pulmonary involvement with COVID-19.
In the following table, the diagnostic protocol of COVID-19 in CT scan confirmed by The Radiological Society of North America (RSNA) and National Institute of Health (NIH), has been presented.